PSG Grants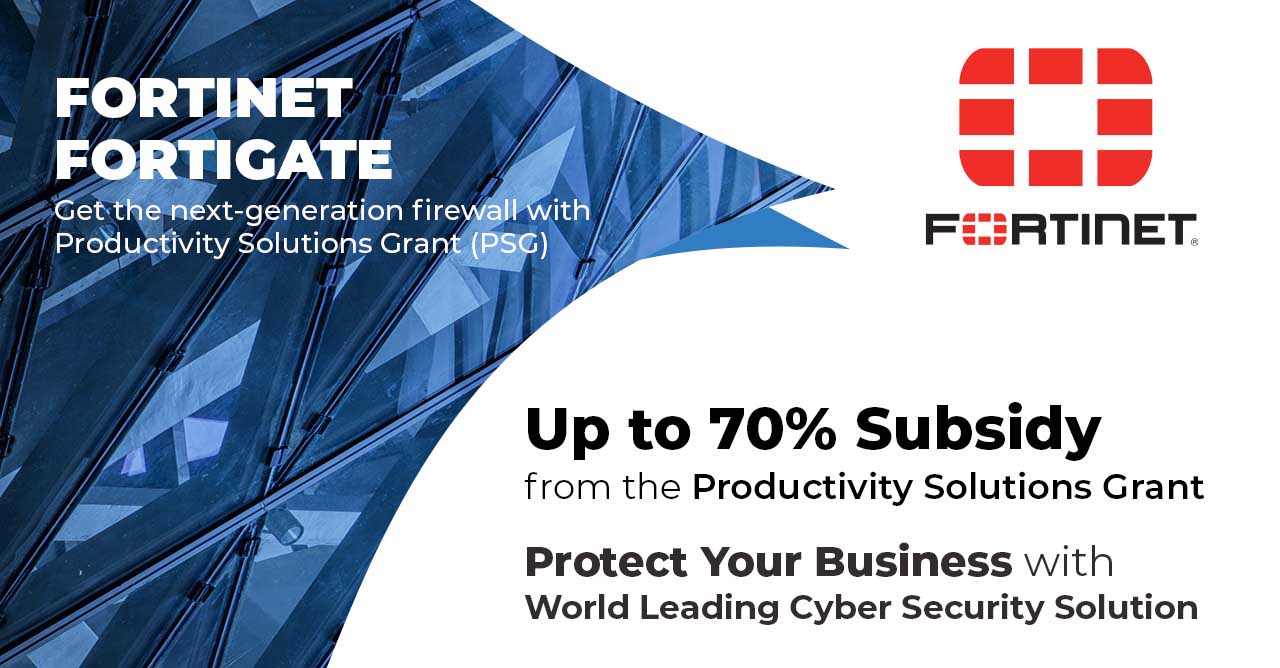 Computer Analysts and Recovery Experts Pte. Ltd. (CARE) is a managed Service provider of IT infrastructure and Fortinet Authorized Managed Service Provider for Fortinet FortiGate Nex-generation firewalls (NGFW) to build Cyber Security for SMEs.
The pre-approved solutions supports the continual work from home arrangement and in forefront of the constantly evolving Cyber security facing the SMEs IT setup and work from home employees.
+

What is Productivity Solutions Grant (PSG)?
The Productivity Solutions Grant (PSG) supports companies keen on adopting IT solutions and equipment to enhance business processes. These solutions have been pre-scoped by various government agenceis such as Enterprise Singapore.
Applicants must meet the following eligibility criteria at the point of application:
Company must be registered in Singapore

Purchase / lease of the IT solution or equipment or consultancy service must be used in Singapore

Must not have :
    * Made any payments to a supplier, vendor or third party in relation tot he purchased / lease of the IT solution or equipment or consultancy service
    * Signed any contract with a supplier, vendor or third party in relation to the purchase / lease of the IT solution or equipment or consultancy service

Minimum 30% ordinary shares (ultimate individual ownership) held directly / indirectly by Singaporean / PR 
AVAILABLE PACKAGES FOR
FORTIGATE FIREWALL

ONE (1) Year Unified Threat Protection (UTP) (IPS, Advanced Malware Protection, Application Control, Web Filtering, Antispam Service and 24x7 Forticare)


Fortinet VPN Token Perpetual license for 10 users


5 x GE RJ45 ports (including 1 x WAN Port, 4 x Internal Ports)


Setup, Configuration and Training Service included


CARE IT Managed Firewall services and Support



ONE (1) Year Unified Threat Protection (UTP) (IPS, Advanced Malware Protection, Application Control, Web Filtering, Antispam Service and 24x7 Forticare)


Fortinet VPN Token Perpetual license for 10 users


10 x GE RJ45 ports (including 2 x WAN Port, 7 x Internal Ports, 1 x DMZ Port)


Setup, Configuration and Training Service included


CARE IT Managed Firewall services and Support



ONE (1) Year Unified Threat Protection (UTP) (IPS, Advanced Malware Protection, Application Control, Web Filtering, Antispam Service and 24x7 Forticare)


Fortinet VPN Token Perpetual license for 25 users


8 x GE RJ45 ports, 2 x RJ45 / SFP shared media WAN ports


Setup, Configuration and Training Service included


CARE IT Managed Firewall services and Support



ONE (1) Year Unified Threat Protection (UTP) (IPS, Advanced Malware Protection, Application Control, Web Filtering, Antispam Service and 24x7 Forticare)


Fortinet VPN Token Perpetual license for 25 users


22 x GE RJ45 ports, 2 x RJ45 (including 2 x WAN ports, 1 x DMZ Port, 1 x Mgmt Port, 2 x HA ports, 16 x Switch Ports with 4 SFP+ FortiLinks, 480GB onboard storage, dual power supplies redundancy


Setup, Configuration and Training Service included


CARE IT Managed Firewall services and Support



ONE (1) Year Unified Threat Protection (UTP) (IPS, Advanced Malware Protection, Application Control, Web Filtering, Antispam Service and 24x7 Forticare)


Fortinet VPN Token Perpetual license for 25 users


22 x GE RJ45 ports, (including 2 x WAN ports, 1 x DMZ port, 1 x Mgmt port, 2 x HA ports, 16 x switch ports with 4 SFP port shared media), 4 SFP ports, 2 x 10G SFP+ FortiLinks, 480 onboard storage, dual power supplies redundancy


Setup, Configuration and Training Service included


CARE IT Managed Firewall services and Support